Nokia 8 Now Available to Purchase in India
14-10-2017 01:41:40
As scheduled, the Nokia 8 smartphone is now available for purchase in India. Amazon currently has the Steel variant in stock, with Tempered Blue set to arrive tomorrow. Price tag, which was already confirmed late last month, is INR 36,999 (around $572).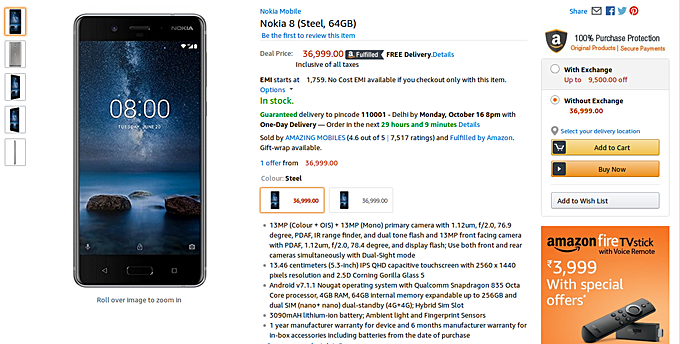 Those interested in other color options can head to the website of retailer Sangeetha Mobiles, which currently has all four colors in stock. Pricing remains the same at INR 36,999. The device comes with 4GB RAM, although a new, 6GB RAM variant has also been launched by the company in Europe.
More Updates
Xiaomi partners with Cashify in India to offer tra...
Rose Gold Xiaomi Mi A1 Now Available for the India...
OnePlus 3 and 3T Gets Stable Android 8.0 Oreo Upda...
Samsung Galaxy Tab A Launched with Bixby Home
Airtel offering iPhone 7 for Rs.7777, but here is ...
Nokia 2 Goes on Pre-order in the US for $99